A new series of entertaining and educational videos created by Ancient History Encyclopedia, in co-production with Past Preservers, will expand and enhance the availability of online resources pertaining to the study of the ancient world.
Ancient History Encyclopedia (AHE), a nonprofit, digital humanities website focused on global ancient history, announced today that they are launching a series of videos under the title History et cetera with Past Preservers. This new series will bring fresh and engaging video content to Ancient History Encyclopedia, offering the "YouTube generation" expert knowledge on a variety of topics related to history, archaeology, and much more. This video series is designed to appeal to students, educators, and history enthusiasts alike.
In late 2015, Ancient History Encyclopedia and Past Preservers launched an online campaign to find the faces of History et cetera. With hundreds of applications from around the world, two finalists were selected as presenters: art historian Sheila Hoffman and intrepid explorer Trevor Wallace. By combining their disciplines and passions, Ancient History Encyclopedia endeavors to inspire a new generation to engage with history from exciting angles. Jan van der Crabben, CEO and Founder of Ancient History, adds:
"Adding our own video content to AHE is the fruition of a long-time goal. Many visitors to our website are millennials currently in school, and by adding videos we can reach and educate more students and history enthusiasts alike, accommodating all learning styles in turn. We are delighted to work with our long-standing partners at Past Preservers to create History, etc and meet the needs of a curious, internet-savvy public, which yearns for quality programing."
Ancient History Encyclopedia is a non-profit organization dedicated to giving highest-quality history content to the world's history enthusiasts, teachers, and students for free. Ancient History Encyclopedia is the global leader in ancient history content online, boasting the highest number of monthly visitors of any dedicated website. The website combines different media, subjects of study, and historical periods. The site's forward-thinking approach to education exists as a point of reference to ancient history educators, students, and enthusiasts, who are seeking both specific historical details and "big picture" analyses.
As two organizations dedicated to providing and producing quality content in a digital age, Past Preservers and Ancient History Encyclopedia recognized their like-minded missions, and a shared desire to highlight the diversity and vibrancy of ancient history. With the generous production support of Past Preservers, users of Ancient History Encyclopedia can now explore unseen historical connections via History et cetera on YouTube. Nigel J. Hetherington, CEO of Past Preservers, expanding by saying:
"We are thrilled to be working with AHE on History et cetera! Our presenters Sheila and Trevor are a dynamic duo with the ability to break down complex theories and engage with a wider audience. This launch marks the beginning of a new adventure for both AHE and Past Preservers."
Further Information
About Ancient History Encyclopedia
Ancient History Encyclopedia is a nonprofit educational website with a global vision: To provide the best ancient history information on the internet for free. It combines different media, subjects, and periods in interactive ways that will help readers understand both the "big picture" and specific historical details. Editorial review is at the heart of Ancient History Encyclopedia's process to ensure the highest quality. Recommended by the European Commission and proudly listed as an open education resource in the OER Commons, Ancient History Encyclopedia is additionally a contributing member of the prestigious academic Pelagios network and a media partner of EAGLE Portal, which is overseen by the Europeana Network. Other media and nonprofit partnerships exist with organizations across Europe and North America. Ancient History Encyclopedia has been cited and mentioned worldwide by major newspapers and media bureaus, including the BBC, Fox News, The New York Times, The Washington Post, Time Magazine, The Guardian, CNN, and Huffington Post. It receives more internet traffic than the world's major art museums. For more information on Ancient History Encyclopedia, please visit http://www.ancient.eu/.
About Past Preservers

Past Preservers connects its clients to the vivid, often elusive and ever changing array of social and historical sources that surrounds us. Past Preservers' ethos is to produce quality history-based non-fiction programming by focusing on the creative aspect of each project including development, research and the casting of contributing experts and presenters. Above all, clients require from us the consistent and reliable capacity to provide access to the archaeological, scientific, and practical resources crucial to their projects and business. Projects have aired on major networks, such as the BBC, History Channel, Discovery Channel, National Geographic, Al-Jazeera International, ABC, and Channel 4. With a global reach, Past Preservers serves as the creative hub between the media and heritage worlds. The heart of operations lie in Past Perservers' database of historical experts. This database includes over 1400 professionals from more than twenty countries and includes archaeologists, historians, Egyptologists, classicists, conservationists, forensic biologists, anthropologists, authors, and heritage consultants. For more information on Past Preservers, please visit: http://pastpreservers.com/
History et cetera Presenters:
Sheila Hoffman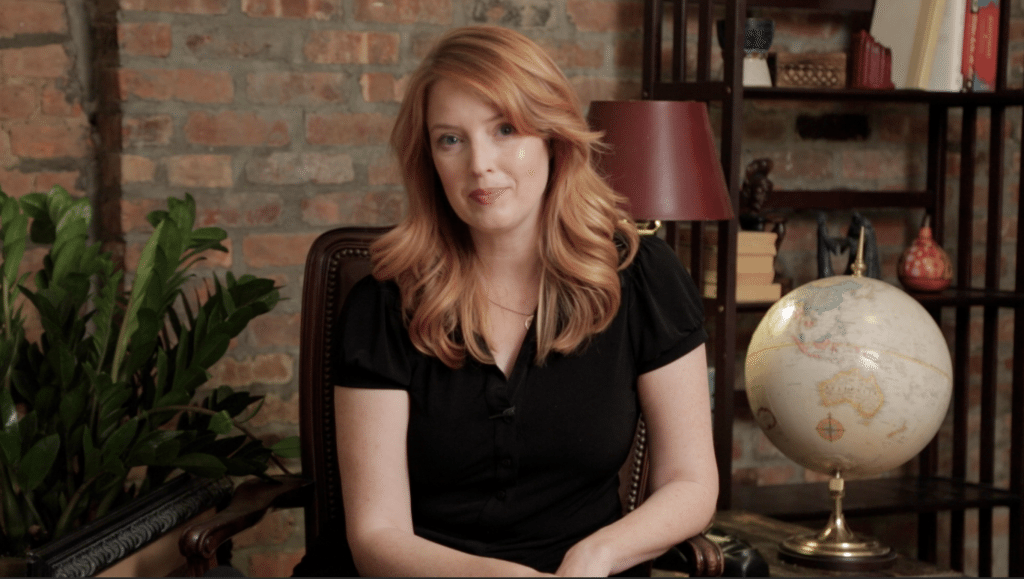 A native of New Mexico, Sheila K. Hoffman has lived in five different countries and wandered through more than a dozen others as a trained art historian, museologist, and iconologist. A former museum curator, she has worked with a variety of material culture collections that span the globe as well as human history. Her driving interest is symbols and cultural imagery. She refers to herself as "A female Robert Langdon (minus the tweed) with a museum fetish and a passion for all things archeo-religious. A curatorial-jedi and tech padawan. A sci-fi geek and an incurable explorer. A culinary crusader, foodie adventurer and mediocre cook." Not surprisingly, her quirky disposition is paired with an impressive academic background.
Sheila is currently a dual doctoral candidate at the Université de Paris I, Panthéon-Sorbonne in art history and the Université du Québec à Montréal in Museology, Heritage and Cultural Mediation, where for the past five years she has researched how digital technologies can be used to capture, preserve, and disseminate world heritage. In 2013, she was named as one of Canada's prestigious Vanier Graduate Scholars for her proposed dissertation. She has also authored several books and articles, including an acclaimed examination of indigenous pottery of the Southwestern United States. She currently serves as a Regional Representative on the Board of Directors and chairs the Subcommittee on Ethics for CurCom, the National (US) Curators Committee. From ancient symbols to digital culture, Sheila believes fiercely in the power of cultural images and objects to transform our understanding of the world we share.
Trevor Wallace
Trevor Wallace is an explorer, artist, and filmmaker originally from San Anselmo, CA. Trained in human geography, conservation, and ethnographic filmmaking, Trevor has combined multiple disciplines to document a constantly changing and complex world. Born with a strong wanderlust, Trevor traveled to seven continents before turning 21 through personal fundraising, grants, and scholarships. Trevor has built an expertise at shooting and conducting research in a variety of environments by connecting with individuals and communities. For example, while living in Cuba, he shot a spot for national television on bat conservation navigating a complex political situation. In Antarctica, he overcame the physical and environmental stress of shooting in an extreme climate. In El Salvador, he worked under threat of violent gangs to get in depth interviews in a short time-frame.
After graduation from college, Trevor committed to two years of service with AmeriCorps through the program Teach for America. In this program high achieving graduates are placed in the most underserved and vulnerable schools in the United States. Trevor taught geography, civics, and visual arts in a public bilingual school, entirely in Spanish, for two years. Over the course of his service, he was humbled and inspired by the strength of the 530 students he taught and was honored to be able to make a difference in their lives. By telling people's stories and empowering people to tell their own, Trevor has worked in solidarity with many indigenous and marginalized communities. Trevor is driven by the belief that exploration is a fundamental human trait and works as an advocate for the last wild places on this planet.
Media Contacts:
Mr. James Blake Wiener
Co-Founder; Communications Director at Ancient History Encyclopedia
[email protected]
+1 (941) 544-7375 (US)
Mr. Nigel Hetherington
Co-Founder; Owner of Past Preservers
[email protected]
+44 7526 179 821 (UK); +20 100 346 1169 (Egypt)